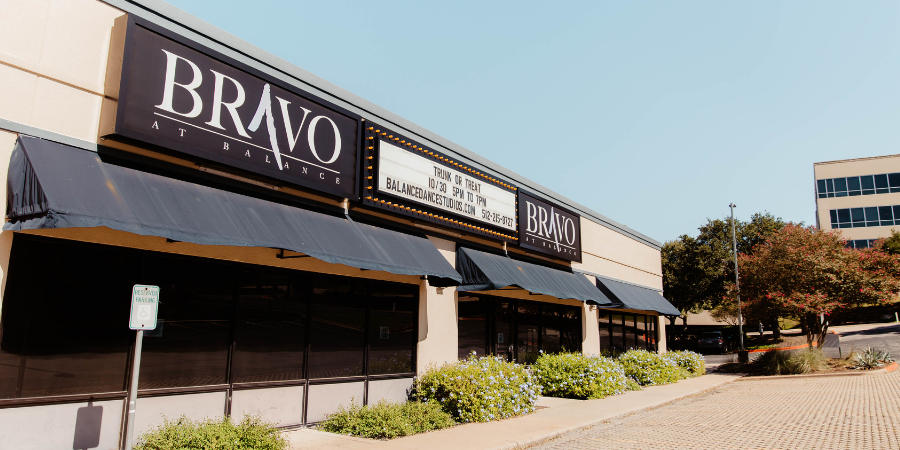 Studio Rentals at Balance Dance Studios & Bravo at Balance
Balance Dance Studios is equipped with 9 studios including Bravo, a full production black-box theater. If you are needing space for a theatrical production, event, or party or you would like to rent a studio for a class, rehearsal or private instruction, Balance has the perfect space.
Balance Dance Studio is a full-featured dance facility with 9 different dance spaces in adjacent buildings plus a 1200 Sq Ft dance deck facing the greenbelt!
  Some of our amenities include:
A full array of adult dance/fitness classes held at the same time as youth sessions

Coffee bar with healthy snack options

Relaxation area equipped with comfortable sofas, tables and chairs with an adjacent play area for siblings (fun interactive dance videos for kids, drawing tables with paper and crayons, puzzles, Wii video gaming area, books, and games)

Complimentary Wi-Fi for laptops or iPads with plenty of accessible electrical outlets

Televisions in the viewing area for parents to watch lessons

In-studio boutique offering quality, affordable dance clothing and accessories

Black Box theatre available for rental – Learn more about Bravo theater rental

here.
Balance Dance Studios 1-5 
Bravo at Balance Studios 6-9
Studio 1 - 630 Sq Ft
EFS Sprung Flooring with Marley Floor Dance Surface
Mirrors (Screens Available)
Ballet Barres
Ipod Doc
Surround Sound
Cubbies
Virtual Viewing Windows
View of Greenbelt
Acro Mat Access
Studio 2 - 969 Sq Ft
EFS Sprung Flooring with Oak Hardwood Dance Surface
Mirrors (Screens Available)
Ballet Barres
Ipod Doc
Surround Sound
Cubbies
Virtual Viewing Windows
View of Greenbelt
Acro Mats
Studio 3 - 895 Sq Ft
EFS Sprung Flooring with Oak Hardwood Dance Surface
Mirrors (Screens Available)
Ballet Barres
Ipod Doc
Surround Sound
Cubbies
Virtual Viewing Windows
View of Greenbelt
Acro Mat Access
Studio 4 - 541 Sq Ft
EFS Sprung Flooring with Marley Floor Dance Surface
Mirrors
Ballet Barres
Ipod Doc
Surround Sound
Cubbies
Virtual Viewing Windows
View of Greenbelt
Curtains & Wings
Studio 5 - 705 Sq Ft
EFS Sprung Flooring with Marley Floor Dance Surface
Mirrors
Ballet Barres
Ipod Doc
Surround Sound
Cubbies
Virtual Viewing Windows
View of Greenbelt
Studio 6 - 665 Sq Ft
EFS Sprung Flooring with Marley Floor Dance Surface
Mirrors
Ballet Barres
Ipod Doc
Surround Sound
Cubbies
Virtual Viewing Windows
Curtains & Wings
Acro Mat Access
Dimmer Switchs
Studio 7 - 1710 Sq Ft
EFS Sprung Flooring with Marley Floor Dance Surface
Mirrors (Screens Available)
Ballet Barres (Available)
Surround Sound
Virtual Viewing Windows
View of Greenbelt
Curtains & Wings
Acro Mat Access
Dimmer Switchs
Production Equipment
Studio 8 - 1007 Sq Ft
EFS Sprung Flooring with Oak Hardwood Dance Surface
MirrorsBallet Barres (Available)
Ipod Doc
Surround Sound
Cubbies
Virtual Viewing Windows
Acro Mat Access
Studio 9 - 800 Sq Ft
EFS Sprung Flooring with Marley Floor Dance Surface
Outdoor Deck - 1200 Sq Ft
Trex Flooring
Ipod Doc
View of Greenbelt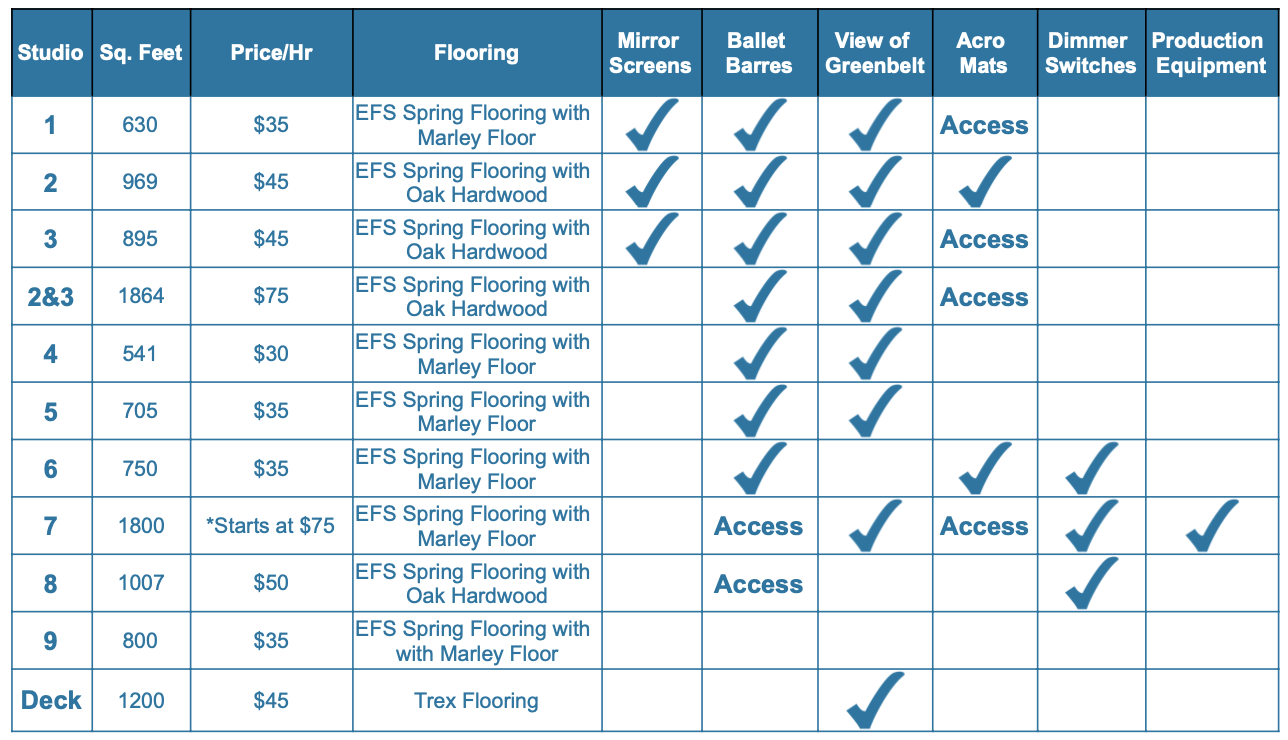 All of our indoor studios come with the following amenities:
Sibling Play/ Homework Area | Virtual Viewing Windows | Multiple Lounge Areas | Friendly Front Desk Staff | Complimentary Wifi & Coffee Bar | Surround Sound & Floor to Ceiling Mirrors
Have additional questions, want to rent our studio or need more information? Call 512.215.8727 or email us at rentals@balancedancestudios.com