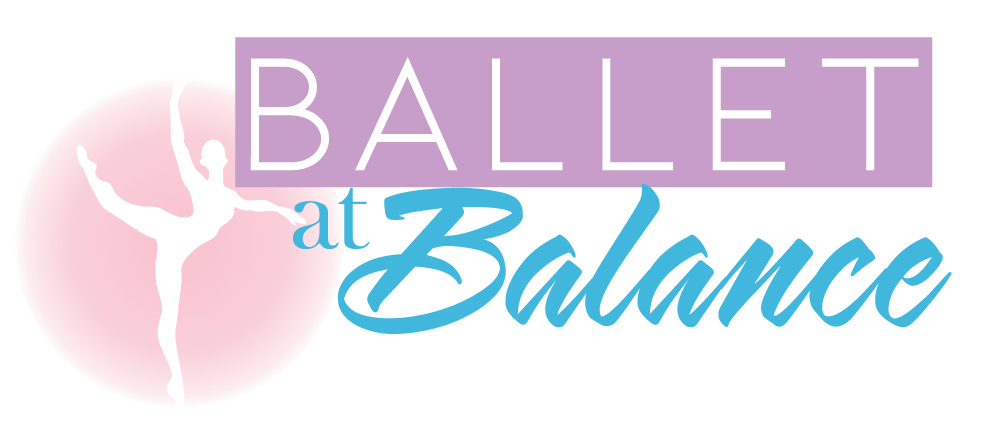 …………………………………………………….
Balance teaches ballet in a safe and artistic manner to students of all ages and levels.  We pride ourselves on being progressive and inclusive while honoring the roots of ballet.
…………………………………………………….
Ballet Class Etiquette
Proper class attire (see Dress Code below)

Respect for the teacher and fellow students

Dancers should enter the studio quietly before class begins in order to prepare their minds and bodies for class.

If a dancer arrives late, he/she will need to check into the office.

No dancer can join class after the 15 minute (late) mark. If they arrive 15 minutes after class has started, they will have to sit out, take notes, and make up the class at a later date.

No food, drinks (other than water in a self-sealing water bottle), or gum is allowed in the studio.

No hanging, climbing, sitting or leaning on the barre(s).

Do not use the barre as a hanging rack for clothes/bags.

If you must leave early from class, please inform your instructor before class begins and politely dismiss yourself when needed.

No talking during class, unless asking the instructor a question or responding to a question the instructor asked.

Respect your classmates. If you don't have anything nice to say, don't say anything at all.

If you are injured, inform your instructor before class begins. If you must sit out, bring a notebook and pen to take notes throughout the class. If a dancer chooses to sit due to injury, he/she will not be allowed to return to dancing in class until the doctor clears the dancer to rejoin the class (this is to prevent any further injuries).

No combinations are "optional"

Raise your hand to ask questions, and wait to be called on.

Belongings will be stored off the floor during class, preferably in cubbies.

All ballet classes will end with a reverence to show appreciation for the instructor and the knowledge that has been shared. Dancers will clap before exiting the studio to thank their instructor.

Discipline will be demonstrated in both the application of technique and display of respectful behavior.

Dancers will understand the importance of corrections and apply them. 

Dancers will keep a positive attitude toward their work and instructor.
Dress Code
Girls will wear a black BDS leotard (different styles available on site in Symmetry), pink footed tights (worn underneath the leotard), and pink ballet shoes. Sports bras may be worn under the leotard as long as they are not distracting (ie, no decorative straps across the back, etc) and must be either black or flesh colored with clear straps, to maintain the lines of the leotard. Balance leotards are available for purchase through the front desk. Boys will wear a white or black fitted t-shirt with black leggings, joggers, or shorts. They will need white socks, and black ballet shoes. 
Hair: Should be worn in a clean and neat bun, taking care to ensure that dancer's hair is out of the face/eyes, is secure and will not come undone in the middle of class. If hair is too short for a bun, please secure hair out of the face with headbands and bobby pins.
Jewelry: Only stud earrings will be allowed; no other jewelry should be worn. Watches, including smart watches, are not permitted. 
DRESS CODE VIOLATIONS 
1st offense – Dancer will be allowed to take class but will be sent home with a note 
2nd offense –  Dancer will be allowed to take class but will be sent home with a note, informing the parent(s) that the next violation will be marked as an absence. 
3rd offense– Dancer will not be allowed to take class, and will be marked absent, but will still be asked to stay and observe class and take notes. 
All violations will be tracked through their Studio Director account, and will reset at the beginning of the fall semester each year. 
Levels
Our ballet syllabus is designed to have clarity and distinction in regard to dancers' training and progress through our ballet levels. The structure provided by the syllabus allows for a safe progression through ballet technique, ensuring that a student has the technical strength and clarity to conquer the movements of the next level. Each level listed in the syllabus will be building upon the criteria learned in all previous levels.
Due to the differing rate of maturity, talent, development, and strength, dancers will typically stay at each level for multiple years. A full copy of our ballet syllabus is available at the front desk for your viewing. 
LEVEL SUMMARIES 
Level 1 
Focuses on the basic steps and ballet terminology. Dancers gain structure and learn combinations to improve memory. They should master the 5 positions of the feet and arms
Level 2 
Focuses on alignment and foot strength. Dancers will start to use their technique to coordinate simple movements and produce combinations of steps and quality of movement. Expressing precision and control within their range of physical capabilities. Master the positions of the body as well as the placement of the head. 
Level 3
Focusing on proper body alignment, Dancers will learn that their strength comes from the core to facilitate the movement of the legs and arms.  They will learn to interpret the music and display this interpretation through their own dancing style. Dancers should also show a developing spatial awareness in groups as well as within themselves. They should master all 5 arabesque positions as well as the fixed points on a stage.
Level 4
Dancers will be working toward furthering their technique and performance quality by demonstrating an increased range of movements with increasing length and complexity while maintaining a sense of style throughout.
Level 5
Dancers will work through a wide range of movements striving for technical clarity as well as incorporating artistry and performance qualities to their dancing.
Full Level breakdowns will be handed out at the beginning of the year (fall), and available through your ballet instructor, upon request.
LEVEL REQUIREMENTS
The required classes for each level vary and are intended to maintain the current level of the dancer. If the dancer wishes to progress further in ballet (move up in the levels), dancers should consider taking additional ballet classes or private lessons with one of the ballet instructors.
Level 1: Minimum of 1 hour of Ballet per week

Level 2: Minimum of 1.5 hours of Ballet per week 

Level 3: Minimum of 3 hours of Ballet per week, 2 – 1.5-hour classes

Level 4 & Level 5: Minimum of 4-4.5 hours of Ballet per week: 2-3 (1.5 hours) Ballet classes, 3rd class (ONLY) can be substituted with Body Conditioning/Skill Building, Strong Body, or Pilates class
Absences in excess of 3 per class without make-up, per semester (Aug-Dec & Jan-May), can/will result in a dancer being moved to a lower level. 
Pointe / Pre-Pointe
Students will be advised of their pointe/pre-pointe levels with the placement results in May. Pre-pointe is a select class for dancers who show great potential in gaining their pointe shoes. The goal of the class is to work closely with these dancers on skills listed in the syllabus to attain pointe shoes mid-way through the year. Consistent attendance and focus in class are essential in attaining this goal; excessive absences could result in the dancer being asked to leave the class. Once dancers receive their pointe shoes and complete half a year working at the barre, they will be invited to join pointe class. No student will be allowed to take a pointe/pre-pointe class without taking the (directly) preceding ballet class THAT DAY. 
Evaluations / Placements
EVALUATIONS
Students will be evaluated once a year to assess their progress in class. This evaluation will be done in December,  in class, by their instructor to ensure each individual knows his/her strengths and weaknesses. They will receive feedback on their progress of select skills listed in the syllabus according to their level. This will allow dancers to focus on the skills that need improvement to achieve their goal by the end of the year in May. Dancers are eligible for level placement with this evaluation, but it is not guaranteed. 
PLACEMENTS
Students will be placed once a year to determine their level for the following year. Placements will occur in May, and will not be accompanied by specific feedback. 
The Nutcracker Production
The Nutcracker showcases every December. Ballet classes that are included in the production will be labeled with "Nutcracker," indicating the class will be included in our annual Nutcracker performance.
For a full list of Nutcracker classes, visit our Nutcracker page  HERE.