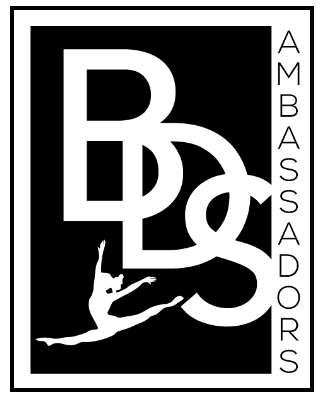 Balance Dance Studios'
Ambassador Program
BDS Ambassadors will be a small group of current students, ages 12-18, who stand out at the studio, not only through their skills in dance, but embody the BDS the vision, values and culture. This program will give students who are selected special and unique opportunities only available to the Ambassadors, such as photoshoots, special guest instructor classes, round table meetings that will give students the opportunity to present different ideas they have for the studio and the opportunity to learn the internal workings of a dance studio, etc. Ambassadors demonstrate consistent class and event participation, initiative around the studio, and are shining representatives of our culture.
Mission Statement
The BDS Ambassador program is designed to highlight, and give special opportunities to, students who embody our core values and culture. Our goal is not only to pour into their development in dance, but also to equip them with other important life, business, and leadership skills.
The Structure of the BDS ambassadors is as follows: 
Studio and Class Assistants: (6 students) This group of students will primarily work inside of the classrooms and represent the Ambassadors at the front desk. This group of students will participate in both spring and fall marketing shoots as well as the recital launch video shoot. This group is a bubbly,  shining face and representation of the studio's vision, values, and culture. 
Interns: (4 students) This is a selected group of Ambassadors who have been a part of the program the previous year. These dancers are the leadership core of the full group. The positions are as follows: Symmetry and BDS social media content Intern, Symmetry operations Intern, Studio Manager assistant intern, and Costume Manager Assistant Intern. Collaboratively, they will set meeting dates, social events, keep track of Ambassador class and event attendance, Ambassador communication. Interns will be required to meet regularly.  Each Intern Applicant will get to request which sector of the studio program they would like to lead then may be selected for a 1on1 interview with a panel. 
Perks
Special Perks for BDS Ambassadors in the Leadership Program:
Exclusive events

Photoshoots- Fall, spring, recital launch video ( plua any additional marketing shoots as needed)

Symmetry branded gear input

Quarterly field trips (dance performances, group retreats, etc.) 

Exclusive opportunities to opt into guest instructor classes for free or reduced rates

Studio jobs- working closely with our BDS staff members

Assist in BDS classes and learn tools to become an instructor

Assist in and learn the administrative/studio operations

Learn what it takes to run a full-scale event and be apart of it!

Recital theme, decor and operations

Much more!

Extra Perks 

Contribute new and fresh ideas to be implemented at BDS

Get all BDS branded gear at the staff discount rate!

30% symmetry discounts

BDS Ambassador branded shirt
Application Process
Students will self nominate to be a part of the Ambassador group. Instructors will also place recommendations. Once you apply, we will check your references and talk to all your teachers to see if you are are a good fit.  Applications are due by June 1st. Ambassador Must complete the application form and submit a video interview (questions are on application) Dancers may be called in for an interview. 
 All selections will be emailed by/ on June 10th with the option to accept or decline by June 15th. If you do not reply, then we will assume you are declining the position and will offer it to the 1st waitlisted candidate. **Please note: there will be only 4 intern spots and 6 assistant spots available in the Ambassador program**
Ambassador Program Application
Application Deadline: June 1st (applications received after this date may not be considered)