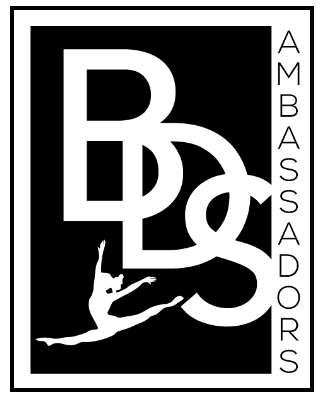 Balance Dance Studios'
Ambassador Program
BDS Ambassadors will be a small group of current students, ages 12-18, who stand out at the studio, not only through their skills in dance, but embody the BDS the vision, values and culture. This program will give students who are selected many special and unique opportunities only available to the Ambassadors, such as photoshoots, special guest instructor classes, round table meetings that will give students the opportunity to present different ideas they have for the studio and the opportunity to learn the internal workings of a dance studio, etc. Ambassadors demonstrate consistent class and event participation, initiative around the studio, and are shining representatives of our culture.
Mission Statement
The BDS Ambassador program is designed to highlight, and give special opportunities to, students who embody our core values and culture. Our goal is not only to pour into their development in dance, but also to equip them with other important life, business, and leadership skills.
Privileges/Expectations
Special Perks for BDS Ambassadors: 
Be a part of exclusive photo shoots that will be used for marketing campaigns. You will also get access to these photos for your personal portfolio.
Model Symmetry Merchandise and support the social media marketing
Contribute new and fresh ideas to be implemented at BDS and be a voice in what happens at the studio
Special classes with visiting instructors – exclusive for Ambassadors
Meet and greets with guest instructors – exclusive for Ambassadors
Be an assistant in BDS classes (if applicable).
Meet with Ms. Dani once per quarter on and off site and serve as a student advocate board to discuss what the dancers would like to see more of at the studio and to ensure their contributions (gifts and talents) are being utilized in ways that are fulfilling to the dancers.
Get early access to seasonal apparel at a steep discount through Symmetry Dance Apparel
Get all BDS branded gear at cost through Symmetry Dance Apparel
Assist in social media marketing implementation and contribute new ideas
Get the opportunity to attend special trips offsite to see performances and plays within the Austin area
Help pick out new seasonal dancewear for Symmetry to sell and assist in store operations
Assist in and learn the administrative/operational side of a dance studio operation
BDS reward program
Receive a monthly stipend to your BDS account, as a thank you for contributing to the culture and being a student role model at BDS
**Please note- attendance at required events is MANDATORY. Students must be able to make the dates issued at the time of offer acceptance**
Description of Ambassador Duties and expectations:
Contribute to the programming and the culture of BDS by acting as an example
Introduce new students to the studio on their first day and greet families as they enter the studio during your weekly non-assisting "shift"
Help at promotional events (both on and off-site), such as kick-off parties, recital/winter show prep, enrollment events, ect. calendar to be provided
Consistently attend enrolled classes, meet company requirements, and attend your weekly "shift(s)"
Show respect for your studio home by picking up after yourself and using resources responsibly, and encouraging others to do the same.
Speak in a positive manner about the studio, whether onsite or elsewhere, and avoid gossip, slander, bullying, or any negative communication about BDS, the program, or other students (this includes all family members)
Promote BDS social media on Facebook and Instagram by sharing posts
Conduct themselves with ethics, integrity, and high moral standards
** Financial need not considered as part of program (Work trade and Bestow Available for students seeking financial assistance.)
Time Commitment: 2 hrs weekly (assisting and business development), 1-2 hours once per quarter for meeting, special events noted on calendar.
Application Process
Students will nominate themselves if interested in being considered for the program. Applications will be available in March, and due by April 15th. Financial need not considered as part of program (work trade and Bestow Balance opportunities available for students seeking financial assistance).
Applications will be reviewed by instructors and staff, and then an interview will be scheduled for those who are under serious consideration. Acceptance emails will be sent out by May 1st and will include a mandatory event calendar. The nominee will then be able to accept or decline the offer by May 10th. **Please note: there will only be 10-12 spots available in the Ambassador program**
Ambassador Program Application
Application Deadline: April 15th (applications received after this date may not be considered)