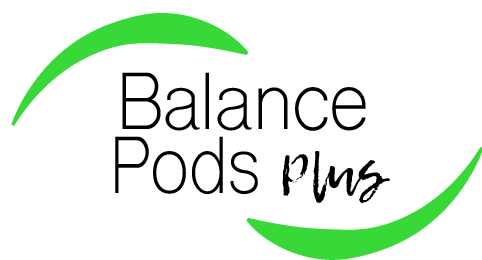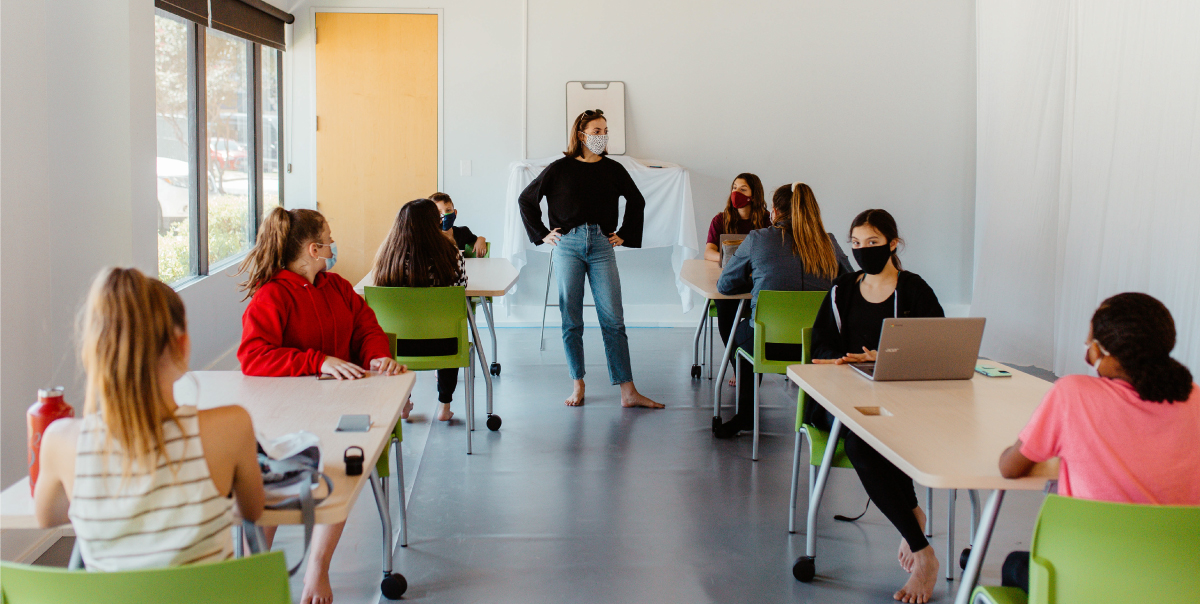 "
I just want to give a HUGE thanks to Balance. The pandemic has been rough on these kids and as an only child, Aubrey was definitely feeling it. Going back to BDS starting this summer has brought her so much joy. She is always so happy when I pick her up from the studio – it is truly her happy place. 🙂 And the pods program has been an absolute lifesaver! The staff is AMAZING!
Thank you for all you do for these kids!!"
– Carrie B
Balance Dance Studios is proud to introduce Pods Plus!
Are you worried about how to juggle your child's remote learning this fall or concerned about extending the summer with a delayed start date?
Pods Plus Education: We've got you covered with Pods Plus at Balance Dance Studios. We have created a safe remote learning environment in our spacious and clean studios during regular school class times. Our education assistants will help your children with his/her online learning curriculum, while you are able to maintain your regular schedule.
Pods Plus Camp: If your school year is delayed until Sept 8th, we are offering a transition pod structure similar to a camp. Instead of starting structured schoolwork, children will be participating in arts, crafts and dance while focusing on grade appropriate fun learning activities to combat the "summer slide," by brushing up on math and reading skills which may have been lost over the summer.  With this interim program, children will ease into the school semester with a smooth transition. 
Pod Days/Times Options
Don't stress any longer about what to do with your student when school starts, because we are offering full day for 5 days, 3 days or 2 days a week, during school hours, PLUS optional after school dance classes starting immediately after the school day ends. Very limited spots are available due to local guidelines, so interested parents should fill out the application form before all the spots are taken! 
Technology Orientation/Meet the Teacher 
We will be sending out information to all Pods Plus students about signing up for a technology orientation/meet the Education Assistant session. Individual spots will be available to sign up and tour the facility August 15th and parents and students will:
Meet their Education Assistant
Connect the student's laptop/device to the Balance Wifi
Test audio/visual (headphones will be needed)
Go over student logins and any curriculum/scheduling details the school has provided
Review the Pods Plus policies and expectations
Ask any questions/address any concerns/provide any additional applicable information
Joining Balance's Pods Plus Program
If you are interested in Pods Plus for your child(ren), please fill out the  online application below. The application will provide us with important information which will help in creating the most positive Pods Plus experience for students.
A safe learning environment for students to log in to their virtual classrooms

Pods by age group based on grade level 

An Education Assistant to help with questions and challenges & provide encouragement throughout the day

Lunch Bunch (Socially distant doesn't mean we can't be social!)

Flexible options including  2, 3, or 5 days week

"Pod Plus" add-on dance/drama/music/arts classes for after school hours 
Ensure student safety throughout the day

Manage daily schedules

Provide guidance and help with schoolwork as needed
Encourage and facilitate focusing on remote instruction during synchronous learning and independent work during asynchronous periods
Troubleshoot technology challenges
Ensure proper social distancing, while creating a sense of community through touch free games/play interaction, inside the classroom and outside
 L
 Wired 
 Backpack & necessary school supplies
 Water Bottle
 Face Covering (Ages 10+)
Pods Plus Pricing
School day: 7:30am-2:55pm
2 days Tues & Thurs |  3 days Mon, Wed, Fri

Pods Plus Pricing
School day: 7:30am-4pm

Pods Plus Camp Pricing
Camp day: 8:30am-4pm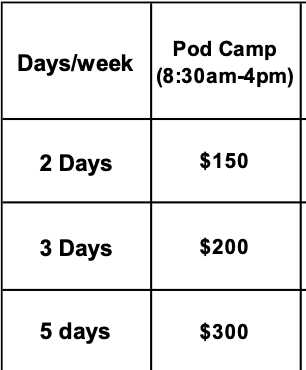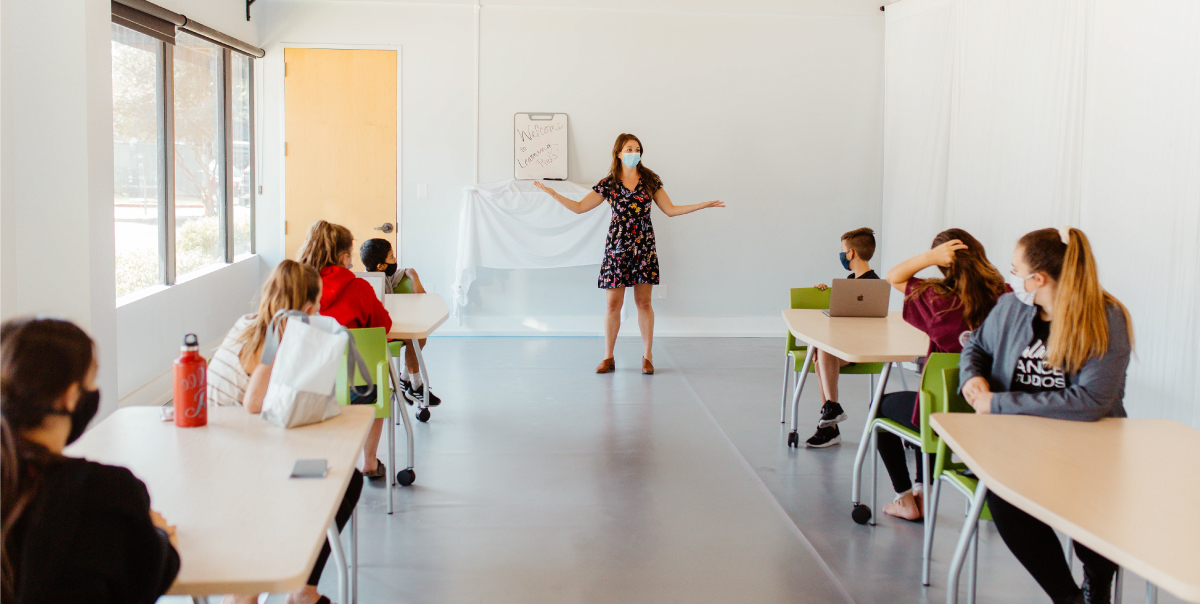 Education Assistant Spotlight
Lisa Schreck
Lisa Schreck has enjoyed a lifetime love of learning. This love was sparked by her mother, an elementary literacy specialist. When spending time with her mom and sister, she often is an audience member during discussions revolving around literacy and supporting student learning.  She has worked as a tutor with at-risk youth for the last few years. Her experience ranges from high school level math to elementary level reading. Her time spent tutoring has also helped her to understand core curriculum expectations across grade levels. The last two years, she taught dance to students ages 4-16, in various locations ranging from pre-school hallways to community center gyms. This experience blends harmoniously with her tutoring background. She is excited to support student learning through her dance and educational backgrounds.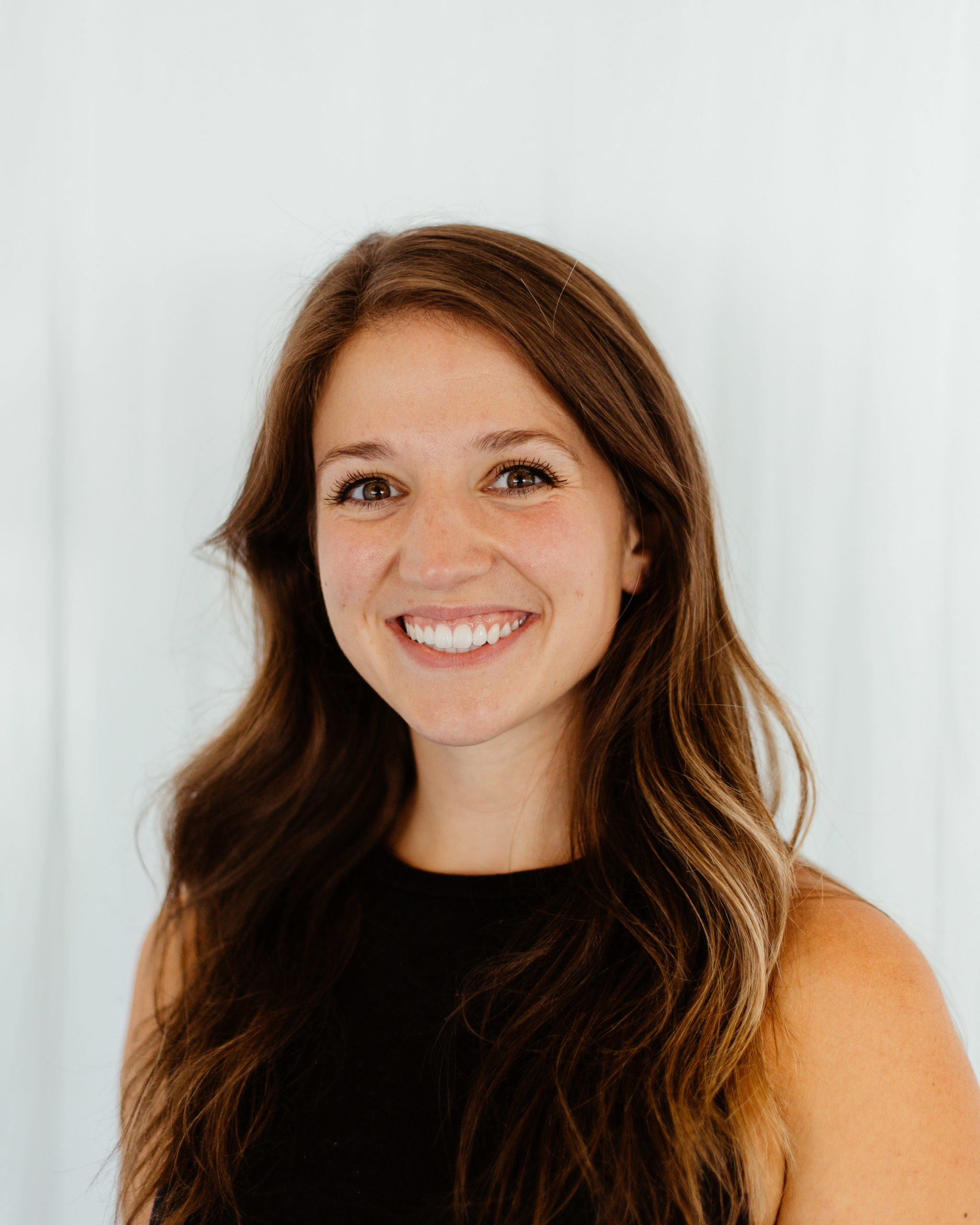 Mia Cavazos 
Mia is an Austin local born and raised in the area. She graduated from Texas Christian University in 2019 with a degree and license in Social Work, with an emphasis on learning disabilities. She is currently pursuing a Master's degree in Elementary Education Early Childhood- 6th grade with an emphasis in English Sign Language. In her spare time Mia, is a tutor and nanny for four kids ages 1-9. 
Emily Lofton
Emily Lofton is a Texas native who has happily returned, after completing her BFA in Ballet Pedagogy, with a focus on psychology and childhood development. During her time studying at the University of Oklahoma, Emily took an interest in holistic young childhood education and began mastering and teaching Anne Green Gilbert's BrainDance concepts, to children from the ages of two to nine. While away from the studio, she enjoys spending time walking the trails with her family, practicing yoga and pilates, and dancing ballet. Looking forward, Emily intends to further her training and earn certificates in both BrainDance, as well as the highly esteemed ABT ballet teacher training, for all ages and abilities.