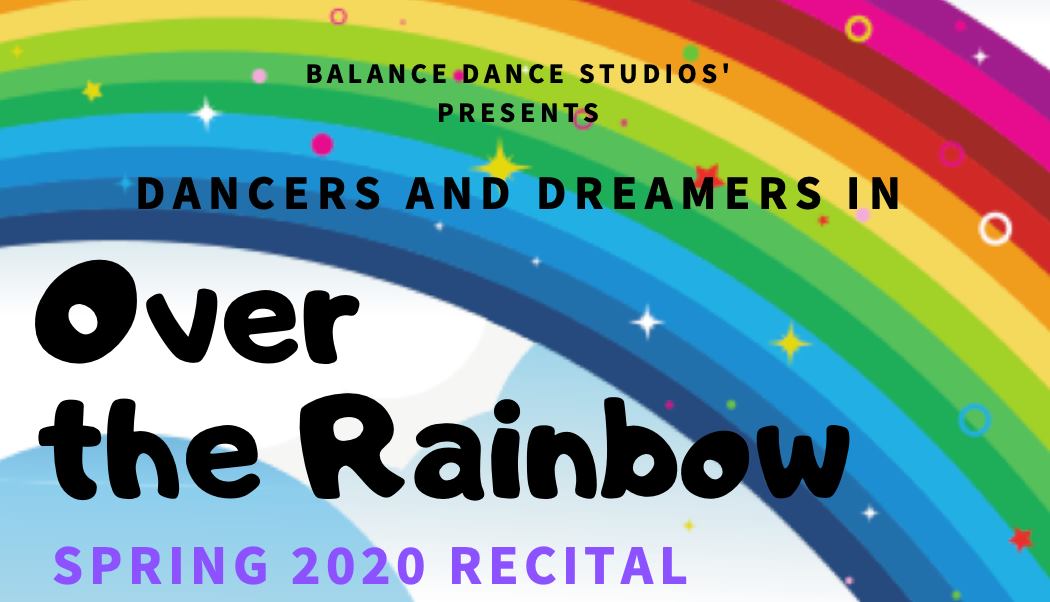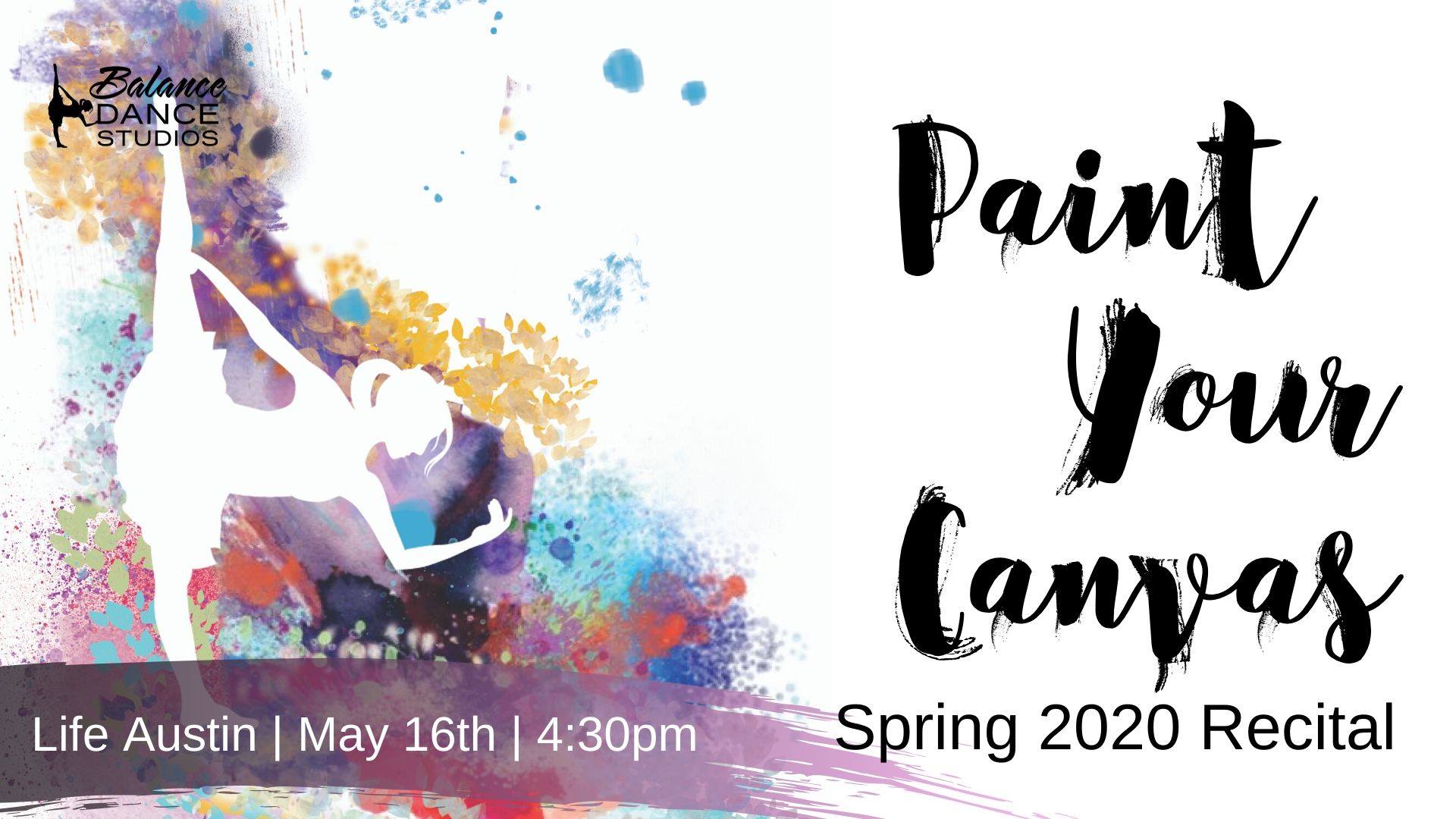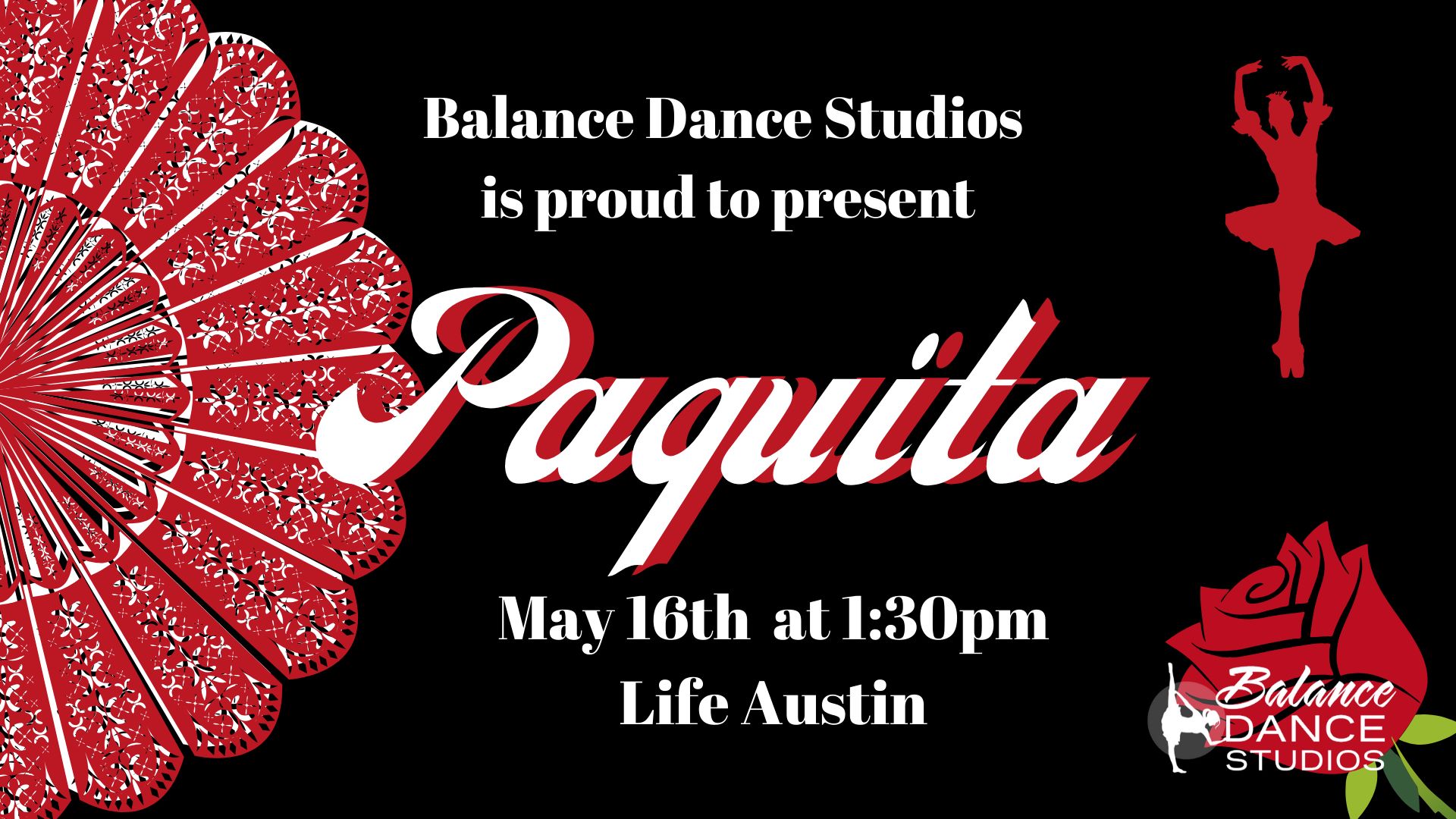 Balance Dance Studios is so proud to present our 2020 recital showcase!
The information you are about to read is very important. It contains detailed information you will need regarding costumes, dress rehearsals, show day, tickets, pictures, etc. Please read carefully and mark your calendars with important dates and times. If you have any additional questions, please feel free to contact us – info@balancedancestudios.
IMPORTANT DATES 
2/24 – 2/29

Parent observation week at BDS (plan to attend the last 25 minutes of class for important recital information from the instructors.)

3/13
Trophy orders due ORDER HERE

4/13

Shout-out

&

Business ad

submissions due for program

5/14 & 5/15

Recital pictures will be taken at dress rehearsal

5/14  4:00pm

Over the Rainbow – dress rehearsal

– at Life Austin at

8901 TX-71, Austin, TX 78735

5/14  6:00pm

Paquita – dress rehearsal –

at Life Austin at

8901 TX-71, Austin, TX 78735

5/15  5:00pm

Paint Your Canvas – dress rehearsal –

at Life Austin at

8901 TX-71, Austin, TX 78735

5/16 

RECITAL DAY – at Life Austin at 8901 TX-71, Austin, TX 78735

Over the Rainbow –  10:30am

Paquita Ballet – 1:30pm

Paint Your Canvas – 4:30pm

5/18 – 5/23

Last week of classes at Balance Dance Studios
ATTENDANCE  Attendance this semester is extremely important for recital participants. Each of our lovely dancers is a vital instrument for the piece their class is preparing to perform. All dancers must be present weekly in order for them to successfully rehearse choreography, timing, formations, and staging. This is a wonderful opportunity for dancers to experience and learn from working as a team and how gratifying that can be when it all comes to life on stage! 
COSTUMES Costumes are arriving, and we are so excited! We will be sending out notification before your dancer's costume pick up class. Please be available to come in the last 20 minutes of the specified class to help your dancer try on the costume and sign off on it. Another adult/guardian may come in your place to sign off and take home the costume if needed.
Please make sure you are 100% satisfied with the fit of your dancer's costume, and keep in mind that these costumes are not made to each dancer's custom measurements; if any minor alterations need to be made, they will be at your expense. Any alterations for sizing that you deem necessary can be done (at your expense) as long as this does not alter the look of the costume. 
Once you take your costume home, there will be no refunds, returns, exchanges or replacements. If the costume does not fit to the extent that a new size must be ordered, then please communicate this to your instructor, and/or the front desk administrator, and they can inform our Recital Costume Manager so an exchange can be attempted. Please do not sign off or take home the costume if it needs to be exchanged. All costumes must be signed out before taking home; if you are unable to attend the class the day of, you can easily get it during the next class or from the front desk during their office hours. 
RECITAL PROGRAM   We will be offering our annual souvenir program at this year's spring recital. The program features glossy, full-color pages and the opportunity to create your own personalized dancer ad! Family members and friends can place "shout-outs" in the program. These can be as simple as a one-line "shout-out" or you can completely customize your "shout-out" with a picture and personalized message.  
Shout-Out Order Form  &  Business Order Form  ** DUE APRIL 13th**
Please review the spelling of your dancer's name in Studio Director, as this is how it will be printed in the program. If it IS correct, no further action is needed. If it is NOT correct, or you would like to see it listed differently, you can access your account HERE. If you do not have your login information, click on the "forgot your password?" link. When prompted, please provide your email address and a link to reset your account password. If the system does not recognize your email address, and you have tried additional email addresses you have provided in the past to Balance Dance Studios, please contact our front desk at info@balancedancestudio.com, and we will be happy to help guide you. 
RECITAL TICKETS Four tickets are provided as part of your recital fee (six if you have more than one dancer performing in recital). Extra tickets are $15 each. Tickets will be available to pick up at the front desk the week prior to the show. Any unclaimed tickets will be available at will call in the lobby on the day of the show.
PICTURES  We will be taking group pictures at the dress rehearsal after your dancer performs. (Please note: parents will not be accompanying their dancer into the actual photo session for group photos.) Only dancers and BDS Staff will be allowed into the room for the group photo session. Opportunities for individual pictures will be available as well. Picture order forms will be available at the front desk in May, and at dress rehearsal.
DRESS REHEARSAL  Important information pertaining to class-specific call times will be announced as the date approaches. Please read all upcoming recital specific emails.
RECITAL VIDEOS   As part of your recital fee, each family will now receive a professional video download of your dancer's show for you to view, stream and download to save on any device or disc/usb. Show off your favorite dancer right from your phone, tablet, laptop, desktop, TV, etc.  Video download links will be emailed as soon as they are available.   
TROPHIES  Every year, we offer commemorative trophies at recital to mark the completion of another year at BDS for your dancers. This year, trophies will only be available on a PRE-ORDER basis. There is NO cost to you to pre-order a trophy. Trophies will be available for pick-up in the auditorium lobby on recital day. The Pre-Order deadline is March 13th! ORDER TROPHIES HERE
RECITAL GIFTS We will have beautiful, fresh rainbow and red rose bouquets and assorted plushes available for purchase at recital, so you can surprise your favorite dancer without making an extra stop! Gifts and concessions will be available for purchase in the lobby all day at the recital.
UPDATES  Additional May Recital information and updates will be emailed and updated on our website. Please make it your responsibility to keep abreast of this important information. It's a team effort; students, parents, teachers, and the directors are key players in the show's success. 
2020 recital is going to be amazing, and your kids will be working hard all semester to prepare for this exciting performance opportunity. We can't wait for you to see them shine!
The BDS Team
Below is a list of participating classes in each of the shows. This is NOT the show order.
Over the Rainbow – Dancers & Dreamers (Ages 2-5) 
| | | | | |
| --- | --- | --- | --- | --- |
| Day | Start Time | Class | Ages | Instructor |
| Monday | 10:00 AM | Classic Combo | 3-4 | Ashley Rothwell |
| Monday | 4:00 PM | Classic Combo | 4-5 | Kelsy Leyendecker |
| Monday | 4:00 PM | Classic Combo | 2-3 | Jackie Courchene |
| Monday | 4:00 PM | Funky Monkey | 4-5 | Jairus Carr |
| Monday | 6:00 PM | Fairytale Ballet | 4-5 | Kenah Fuller |
| Tuesday | 4:00 PM | Classic Combo | 4-5 | Ashley Rothwell |
| Wednesday | 3:00 PM | Funky Monkey | 4-5 | Jairus Carr |
| Wednesday | 4:30 PM | Classic Combo | 4-5 | Kenah Fuller |
| Wednesday | 5:00 PM | Fairytale Ballet | 4-5 | Amanda Howes |
| Thursday | 10:00 AM | Classic Combo | 2-3 | Amanda Howes |
| Thursday | 11:00 AM | Classic Combo | 4-5 | Amanda Howes |
| Thursday | 3:00 PM | Classic Combo | 3-4 | Ashley Rothwell |
| Thursday | 4:00 PM | Fairytale Ballet | 4-5 | Ashley Rothwell |
| Saturday | 9:00 AM | Classic Combo | 3-4 | Kenah Fuller |
| Saturday | 9:00 AM | Classic Combo | 2-3 | Courtney Edgerton |
| Saturday | 9:00 AM | Funky Monkey | 3-4 | Jairus Carr |
| Saturday | 10:00 AM | Classic Combo | 2-3 | Kenah Fuller |
| Saturday | 10:00 AM | Fairytale Ballet | 4-5 | Courtney Edgerton |
| Saturday | 10:00 AM | Funky Monkey | 4-5 | Jairus Carr |
| Saturday | 11:00 AM | Classic Combo | 4-5 | Kenah Fuller |
| Monday | 5:00 PM | Fireflies  | 4-6 | Kelsy Leyendecker |
Paquita – Ballet 
| | | | |
| --- | --- | --- | --- |
| Day | Start Time | Class | Instructor |
| Wednesday | 4:00 PM | Ballet L2 | Hannah Woolridge |
| Tuesday | 5:00 PM | Ballet L3 | Rachel Culver |
| Thursday | 6:00 PM | Ballet L2 | Hannah Woolridge |
| Tuesday | 4:00 PM | Ballet L1 | Hannah Woolridge |
| Thursday | 4:00 PM | Ballet L1 | Kelsy Leyendecker |
| Thursday | 5:00 PM | Ballet L1 | Hannah Woolridge |
| Wednesday | 5:00 PM | Ballet L4 | Rachel Culver |
| Thursday | 6:00 PM | Ballet L3 | Dylan Hesser |
| Tuesday | 4:00 PM | Ballet L2 | Rachel Culver |
| Monday | 4:00 PM | Ballet L2 | Rachel Culver |
Paint Your Canvas – Variety Show (Ages 6-18)
| | | | | |
| --- | --- | --- | --- | --- |
| Day | Start Time | Class | Ages | Instructor |
| Monday | 5:00 PM | Boys Hip Hop | 6-8 | Daniel Broxton |
| Monday | 4:00 PM | Acro L2 | 9-11 | Nikki Blankenship |
| Monday | 4:00 PM | Hip Hop | 6-10 | Daniel Broxton |
| Monday | 5:00 PM | Lyrical | 6-10 | Jairus Carr |
| Monday | 6:30 PM | Acro L3 | 9+ | Danielle Loredo |
| Monday | 6:30 PM | Contemporary | 9-11 | Jairus Carr |
| Monday | 7:30 PM | Contemporary High Int | 11+ | Nikki Blankenship |
| Monday | 7:30 PM | Hip Hop Beg/Int | 9-11 | Daniel Broxton |
| Tuesday | 4:00 PM | Acro L1/2 | 6-8 | Jairus Carr |
| Tuesday | 5:00 PM | Acro L3/4 | 10+ | Kristin Nicolaisen |
| Tuesday | 6:00 PM | Hip Hop Adv | 12+ | Dereke Thompson |
| Tuesday | 7:00 PM | Hip Hop Beg/Int | none | Dereke Thompson |
| Tuesday | 6:00 PM | Lyrical Beg/Int | none | Nikki Blankenship |
| Tuesday | 7:00 PM | Tap L2 | 11+ | Dre Torres |
| Tuesday | 5:00 PM | Hip Hop | 6-9 | Dereke Thompson |
| Wednesday | 4:00 PM | Acro | 6-10 | Jairus Carr |
| Wednesday | 4:00 PM | Acro L2/3 | 9+ | Kristin Nicolaisen |
| Wednesday | 4:00 PM | Contemporary Beg | 9-11 | Nikki Blankenship |
| Wednesday | 4:00 PM | Tap L2 | 7-10 | Kelsy Leyendecker |
| Wednesday | 5:00 PM | Contemporary Hi Int | 7-10 | Kristin Nicolaisen |
| Wednesday | 7:00 PM | Jazz L3/4 | 11+ | Nikki Blankenship |
| Wednesday | 8:30 PM | Ballroom | 10+ | Mark Moy |
| Thursday | 4:00 PM | Acro | 6-10 | Kristin Nicolaisen |
| Thursday | 4:00 PM | Tap/Jazz L1 | 6-8 | Haley Sikes |
| Thursday | 4:30 PM | Ballet/Jazz | 6-8 | Kate McCann |
| Thursday | 5:00 PM | Acro L3/4 | 10+ | Kristin Nicolaisen |
| Thursday | 5:00 PM | Broadway Jazz | 6-10 | Ashley Rothwell |
| Thursday | 6:00 PM | Tap L2 | 12+ | Kelsy Leyendecker |
| Thursday | 7:00 PM | Jazz L2 | 9-11 | Kelsy Leyendecker |
| Thursday | 5:00 PM | Tap L1/2 | 9-11 | Haley Sikes |
| Saturday | 11:00 AM | Ballet/Jazz L1 | 6-8 | Courtney Edgerton |
| Monday | 6:00 PM | Jr PUSH Tap/HH | 7-12 | Dre Torres |
| Wednesday | 6:30 PM | Preteen 1 & 2 | Preteen  | Nikki Blankenship |
| Wednesday | 7:00 PM | Flames | 9-11 | Kelsy Leyendecker |
| Wednesday | 8:00 PM | Blaze | 12+ | Kelsy Leyendecker |
| Wednesday | 8:30 PM | Push Guided Improv | Senior | Kristin Nicolaisen |
| Thursday | 7:00 PM | UGK | 9-18 | Haley Sikes |
| Tuesday | 8:00 PM | Tap Teen Beg | 12+ | Dre Torres |