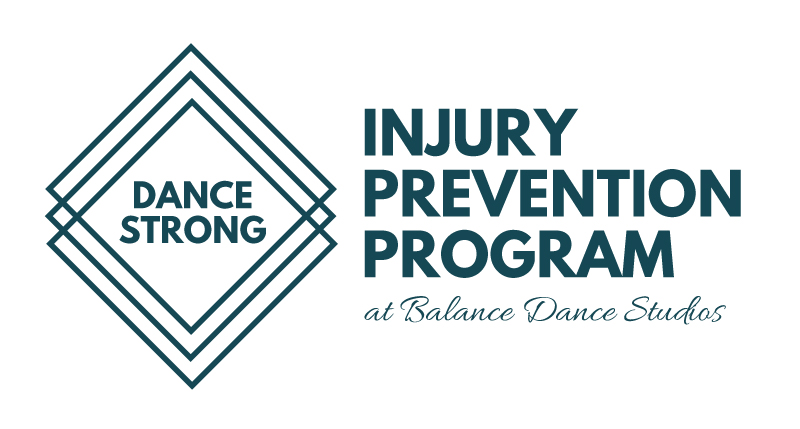 …………………………………………………….
The intention of the Injury Prevention Program Syllabus is to have clear goals and to create a basis for the measurement of an individual's progress and development in their strength, flexibility, and performance enhancement. Cross-training, through the injury prevention program at Balance Dance Studios, by incorporating it into a dancers weekly schedule, will likely provide desirable results in their physical dance performance, and likely reduce the possibility/severity of any injuries, due to the methods and science-based principles incorporated into this program. The "IP" program director will work with the BDS staff to learn about areas of improvement needed and common injuries being seen and program-specific warmup exercises to be incorporated into each dance class.

?
…………………………………………………….
Dani Sanders
Dani, CPT, FMT is a wellness professional and freelance writer that focuses solely on dancers and women's health, fitness, and performance. A native Texan, Dani grew up dancing in the DFW area from a young age. She was heavily involved in her dance studio,  in her school's theatre and was captain of her high school drill team. She then went on to study dance in college until her early twenties when chronic hip injuries pushed her another direction. This is where her passion for safely training and educating dancers about their bodies began. 
She then graduated with a Bachelor's Degree in Exercise Sports Science at Texas State University in San Marcos, where she specialized in dancer's strength training based on the everyday demands of hours in dance classes.
Years of dance training coupled with formal education in kinesiology and physiology allow Dani to help dancers keep their bodies safe and reduce injuries so they can continue their passion for a lifetime.
She has worked in gyms and dance studios across Texas as a staff member and masterclass teacher with a focus on teaching and advocating for healthy physical, mental and emotional development of dancers. 



Dani is also a professional member of the International Association of Dance Medicine and Science as well as the National Dance Education Organization.

She is the founder, developer and director of Dance Strong, an injury prevention program at Balance Dance Studios.

Her program is designed using scientifically proven muscle training protocols that incorporate dance techniques so that dancers can apply what they learn in all of their classes. She is always seeking the most up-to-date research and practices to bring them to dancers.

When asked why she spends so many hours researching, attending clinics in her field and at working at the studio she says, "I work hard because I love what I do: training dancers to keep them dancing longer, injury free and performing their very best."
Program Objectives
Gain cross-functional strength, utilizing the most up to date sports training principles and research

Increase flexibility in a safe and effective manner, using the most up to date methods and eradicating "traditional" stretches and exercises. 

Understand how kinesiology relates to a healthy individual lifestyle.

Increase physical health and endurance. 

Simultaneously maximize athletic performance, while reducing the athlete's risk of injury.

Develop better body awareness and balance, to increase dance performance.

Usage and understanding of basic anatomy, kinesiology, and biomechanics. in regard to dancing.

Increase dancer's ability to focus on their body, in order to assess and reflect on the internal mechanisms and, therefore, learn to be more descriptive and specific in relaying information to instructors, physicians, and physical therapists. 

Teach dancers to advocate for themselves and basic self-care techniques.
Principles & Program Design
The principles which our program is rooted in are the 3 following:
Ground-Based Movements, including plyometrics, squats, crawls, and agility drills

Multi-Joint Movements: Movements the involve stability and free weights

Multi-Planed Movement: Movements that work the sagittal, frontal, and transverse planes
The matter in which we design our programming is as follows:
Speed and Agility: Methods including drills, to contribute to increasing mechanics contributing to acceleration, that involve multidirectional changes which may be helpful in decreasing ACL/Meniscus injuries

Mobility and Flexibility: Methods that focus on form and function, as well as breathwork, in order to gain flexibility in a safe and most efficient manner. 

Power and Strength: Methods that work slow and fast-twitch muscle fibers, utilizing the overload principle 

Conditioning: Methods utilizing predominantly interval training
Classes Available
Flexibility Training

Foam Rolling

Injury Prevention

Pilates

Piyo (Combined Pilates/Yoga Program)

PBT (Progressing Ballet Technique)

Yoga

TRX (12+ only)
Requirements
General Dress code:

 

Top

: Fitted T-shirt or Tank top (NO BAGGY SHIRTS). An athletic jacket may be worn at the beginning of class for warm up.

Bottoms

: Leggings, volleyball/jazz style fitted shorts, bike shorts, or tight joggers. No running shorts that are more than 7 inches above the knee may be worn. 

Shoes

: Studio only training shoes will be required for all injury prevention, TRX, and bungee fitness classes and barefoot for all others (please note: tennis shoes must have proper arch support. No converse or platform tennis shoes).
** Please see specific dress codes for each class below. 
Focus and listening skills:

As the classes progress in level, it is increasingly important for students to focus and listen to verbal instructions. As the classes gain momentum, more equipment may be used. If a student is not demonstrating listening skills or following directions, he/she may be asked to do a modification, without the equipment, at the teacher's discretion. 
Individual Class Descriptions & Objectives
Pilates:
Rationale:  To become better connected with your breath and movement, working together. Finding balance within the body, whatever that may look like. A great class for body awareness.
Class objectives: strengthen the weaker parts of our body, as well as incorporating whole-body movement, mind and body.
Class Dress code specifics: Something form-fitting and easy to move in.
Etiquette: This class gives us the opportunity to look within ourselves and strengthen from within. That does take patience. Come with an open mind to understand the subtlety of our body.
PiYo:
Rationale:
Class objectives: in this class, we will focus on a fusion between the centering principle of Pilates, while using the flow and sequencing of yoga. This class helps students to gain a better understanding of the body we move in every day, while working on strength and flexibility.
Class Dress code specifics: something form fitting and easy to move in.
Etiquette: This class helps align the mind and body. While this may seem easy, sometimes it's hard to sit still, so bring a patient mind. 
PBT (Progressing Ballet Technique)
Rationale: "Progressing Ballet Technique" (PBT) is an innovative body-conditioning and strengthening program, developed by Marie Walton-Mahon, to help students understand the depth of training muscle memory in achieving their personal best. One of the important elements used in the PBT method is muscle memory, which helps to improve students' understanding of core stability, weight placement and alignment. Each exercise in the PBT program has been developed with care and guidance by Ms. Walton, along with a team of physiotherapists.
Class objectives: Increase student's abilities in dance through the PBT method.
Class Dress code: It is highly encouraged to wear a leotard and dance shorts. If you do not wish to wear a leotard a fitted tank top or activewear tshirt tucked into dance shorts required. No shoes will be needled.
Etiquette: PBT is rooted in ballet. It is important that you come to class with the same mindset as Ballet class. Be ready to work, respectful, and focused. 
TRX:
Rationale: To increase overall strength and fitness, utilizing body weight in the suspension training system, that will translate to dance and performance.
Class objectives: Overall strength and fitness gain. Increased cardiorespiratory, capacity, stability,  and muscle tone.
Class Dress code: Fitted active attire and training tennis shoes. No platform sneakers will be permitted, due to safety concerns.
Etiquette: Listening skills and focus. Come prepared to get a good workout and feel stronger each class. 
Injury Prevention:
Rationale: Decrease the likelihood and severity of, and increase the knowledge of, sport or dance-related injuries, by utilizing cross-training modalities that strengthen and balance muscles.
Class objectives: Students will participate in programmed workouts that focus on balancing the muscles commonly used and overused in dance. They will experience varying forms of workouts, using bodyweight, equipment and suspension training. The overarching goal of this class is to prehab the muscles and create awareness to move in ways that are biomechanically correct, in addition to gaining strength and skill that will benefit the student throughout their life.
Class Dress code: Fitted active attire and training tennis shoes. No platform sneakers will be permitted, due to safety concerns.
Etiquette: Come ready to work hard and learn new concepts that challenge you physically and make you think about how your body moves. Focus and introspection is used each class. 
Flexibility Training
Rationale: To increase students' range of motion, in a safe and effective manner.
Class objectives: Students will learn safe and effective stretching techniques and are taught the "why" behind them. With social and commercial media, the students are commonly seeing the extremes of flexibility. In this class, we will discuss the do's and don't 's of flexibility. The class will take students through a progressive dynamic stretch that follows the most recent scientific recommendations and apply them to dance skills that are used in dance classes. Students will also be taught basic anatomy.
Class Dress code: Activewear, no shorts unless dance shorts or a 5" inseam. No shoes will be required. Dancers will be required to bring their own yoga mat. We will use Yoga blocks and a stretching loop. Students are encouraged to purchase their own from symmetry, due to COVID, but there will also be equipment available in the studio if needed.
Etiquette: This class gives us the opportunity to look within themselves, focus on our own goals, and understand the time it takes to reach them (which takes patience). Come with an open mind to understand the subtlety of our body.
Yoga
Rationale: Practicing yoga on a regular basis improves the health of your bones while strengthening your spine and muscles. It also works the tendons and ligaments, making them less susceptible to breakdown. And, of course, yoga improves your flexibility. These yoga benefits work together to protect your body from injury.
Class objectives: To help students cultivate a better understanding of the mind-body connection through discussion, the physical practice of yoga (asana,) and breath work (pranayama).
Class Dress code specifics: Anything that is comfortable and allows ease of movement.
Etiquette: Students are asked to be kind, courteous, and respectful of each other and their instructor.
Assessments
The Director of the Injury prevention program will provide free assessments to students for placement and assessment of muscle imbalances and overall range of motion. Email info@blancedancestudios.com for more information.  
CONTACT INFORMATION 
For questions about the program and class recommendations, please email info@balancedancestudios.com.