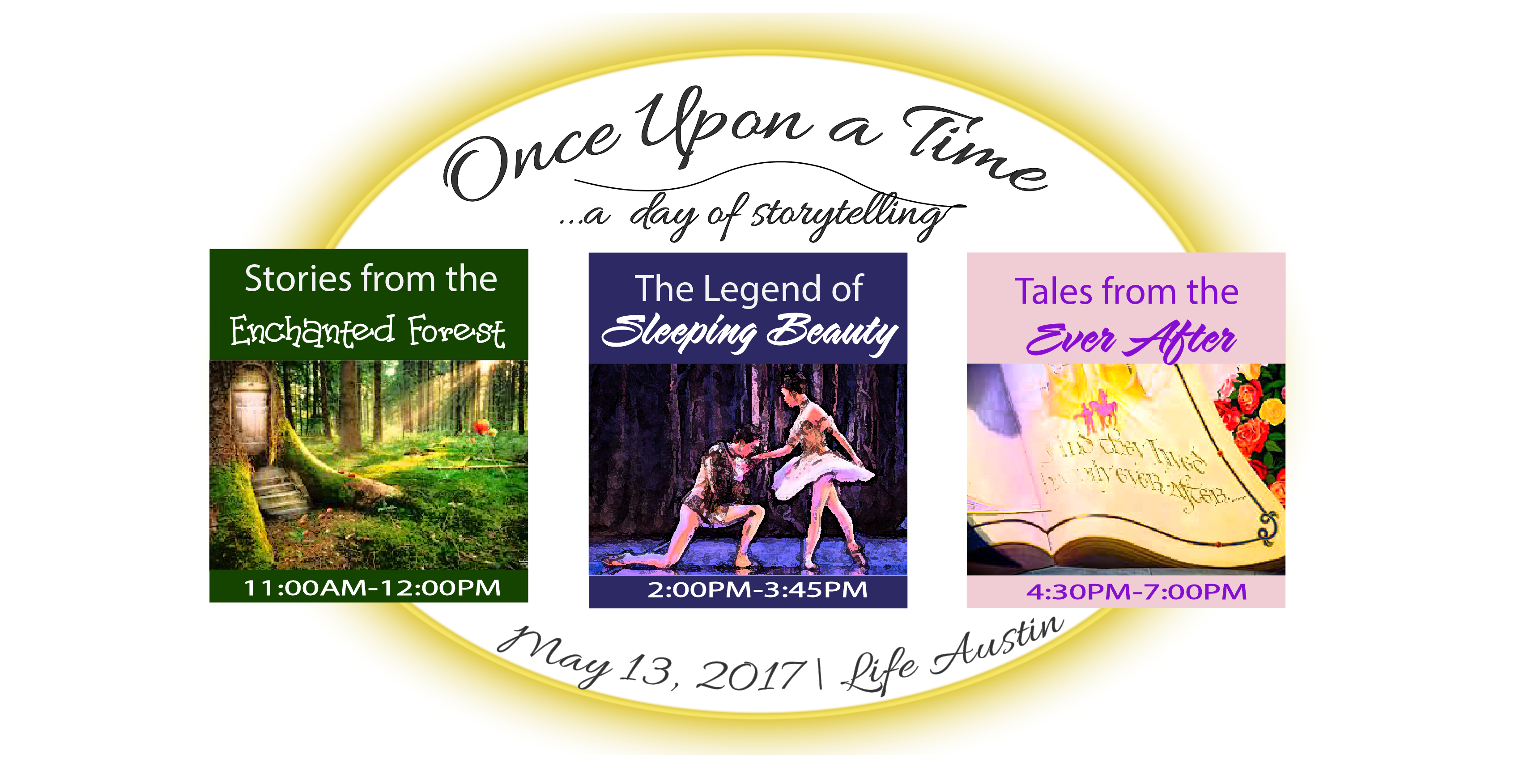 Click below on the tab of the production in which your dancer is participating to learn more details about rehearsals and show day!

Location/Date/Time:
May 13th (dress rehearsal will happen in weekly classes)
LifeAustin (8901 W HWY 71 Austin, TX 78735)
Student arrive at 10am (showtime 11-12pm)
Dress Rehearsal:
Dress rehearsal will take place in your dancer's class the week of May 6th-12th
Please arrive for your regular class time fully dressed (tights, shoes, costume, hair, no makeup required)
Pictures:
Picture info coming soon (be on the lookout for an email with more information)…
Backstage Parent:
Each class will have an assigned backstage parent who will stay with the class backstage, and facilitate coloring, crafts, games, etc.
If you are a backstage parent, please plan on arriving at 9:30am to get fully set up and in place before your class arrives.
All backstage parents will receive a free registration fee for the fall semester.
Drop Off/Pick Up:
Dancers will be dropped off at 10am on May 13th (at LifeAustin). They will be marked with the last four digits of their parent's cell phone, and the parents will be marked with the same number.
Dancers will be picked up immediately after they are finished performing, and both parent's and child's hands will be checked for matching numbers.
DVDs/Flowers/Promos:
Scroll down to order recital day flowers for $20, a program message to be printed in the recital program, extra tickets and more! Also, at recital, we offer special promos for our wonderful, tiny dancers for things such as summer camps, fall classes, Symmetry apparel, and more! Be sure to read your newsletters for pre-order forms and details.

As we get closer to our production of Sleeping Beauty, please mark these very important rehearsal dates on your calendar! These rehearsals are mandatory to give the entire cast a chance to rehearse the ballet in show order before the dress rehearsal at Life Austin.
What: Sleeping Beauty rehearsals (full cast)
Where: Balance Dance Studios (Studio 7)
When: Friday, April 21 from 5-8pm
Sunday, April 30 from 3:30-6:30pm
These rehearsals are incredibly important because many classes will be combined for the first time. If there is any reason your dancer has a conflict, please email [email protected] to request an excused absence. (If a dancer is not granted an excused absence, they must attend both rehearsals or they will not be permitted to perform.)
Other important Sleeping Beauty dates:
Dress rehearsal: Thurs, May 11 from 4:30-7:00pm
Performance: Saturday, May 13 at 2:00pm
Sleeping Beauty show order:
Act 1
Ladies of the Court: Wed, L4 class @ 5pm (Katie)
Nanny
King & Queen
Lilac Attendants: Mon, L3 class @ 4:30pm (Alyssa)
Fairies
Lilac Attendants: Thurs, L3 class @ 5pm (Alyssa)
Carabosse
Carabosse Attendants: Mon, L1 class @ 4pm (Ashley)
Act 2
Duchesses: Tues, L4 class @ 6:30pm (Katie)
Waltz of the Flowers: Tues, L2/3 class @ 5pm (Katie)
Mon, L3 class @ 4:30pm (McKenna)
Princess Aurora
Aurora's Companions: Wed, L2 class @ 6pm (Devon)
Aurora's Friends: Mon, Minis class @ 5pm (Danielle)
Prince Phillipe
Act 3
Jewels
Mazurka: Wed, L1 class @ 4pm (McKenna)
Red Riding Hood & Wolf
Bluebird
Puss in Boots & White Cats
Aurora & Prince Phillipe
Gypsies: Mon, L2 class @ 5pm (Ashley)
Flowers/Program Messages/Extra Tickets/DVDs
Scroll down to order recital day flowers for $20, a program message to be printed in the recital program, extra tickets and more!

Preparation
Attendance this semester is extremely important for recital participants. Each of our lovely dancers are vital instruments to the piece their class is preparing to perform. All dancers must be present weekly in order for them to successfully rehearse choreography, timing, formations and staging. This is a wonderful opportunity for dancers to experience and learn from working as a team and the gratification that can be experienced when it all comes to life on stage!
Getting Ready
Mark the rehearsal and show dates on your calendar.
Make sure to check the spelling of your dancer's name on the studio info board, next time you are at Balance, to ensure it is printed correctly in the program.
Be sure you have the appropriate dance shoes and tights (where applicable) for your dancers.
We will soon be sending out information on purchasing recital DVDs, a sweet message to your dancer in the recital program, flower bouquets, and tickets ($10 pre-purchased, $12 at the door).
Invite friends and family to come watch your dancer perform 🙂
Dress Rehearsal – DATE CHANGE – THURSDAY, MAY 11th, from 7pm-9:00PM, at LIFE AUSTIN (8901 TX-71, 78735)
Dancers should arrive at least 30 minutes before their estimated call time, ready to go. "Call Time" means that your dancer should be dressed and completely ready to go on stage by that set time.
Professional class pictures will be taken directly after their run through on stage – these photos, as well as optional individual photos, will be available for purchase.
Recital Day – SATURDAY, MAY 13th, at 4:30 
Dancers will check in 1 hour before each act in each show in which they are performing.
Parents will check in dancers at the Patton Theater (our dressing room), attached to the main theatre, and can reserve a seat in the auditorium when doors open 20 minutes prior to each show.
Show order for recital will be the same as dress rehearsal order.
Dancers should arrive in full costume, girls' hair pulled back in a bun (unless alternate directions have been given by teacher on the class recital handout), and stage makeup!
Pick Up
Dancers will ONLY be available for pick-up IN BETWEEN ACTS. Please do NOT come backstage during the show to pick up your dancer. Any dancer who is not picked up during intermission may be picked up after the show.
Dancers 12 years old and up can check themselves out to watch the remainder of the show from the auditorium, but must make sure they have collected all of their belongings before exiting the dressing room area.
If you need to leave the auditorium for any reason during the show, please use one of the back two exits, and exit between dance numbers, to keep disruption at a minimum!
Let friends and family know to arrive at least 30 minutes before the show, in order to get their tickets from will-call, and be there to get a seat when the doors open.
We will have concessions and some retail items available for purchase before and after the show, as well as during intermission, so please bring cash for purchases!
Flowers/Program Messages/Extra Tickets/DVDs
Scroll down to order recital day flowers for $20, a program message to be printed in the recital program, extra tickets and more!
Purchase Additional Recital Tickets
Program Message Orders
2017 Balance Spring Recital Program Message/Advertising Order Form
Every year, one of the highlights of recital is the beautiful keepsake program book that showcases our studio and students. Each family is encouraged to support their dancer by buying or selling an ad that can include a picture, words of wisdom, best wishes, or congratulations. Ask your family, friends, grandparents, aunts, uncles and local businesses to sponsor a picture page for your dancer! Students can be pictured together with a fellow dancer and the families can share the expense. DEADLINE IS APRIL 28TH!
Pre-order a DVD
We are finalizing the DVD Pre-Order forms. Check back soon for more details.
Please check back